Samhain Secrets 2
Two worlds collide as the realm of magick is opened to the mortal realm. Inhabitants cross over, one to the other. The wind howls, and a chill runs down your spine. The hairs on your body stand straight as arrows, and you can feel something breathing down your neck. You turn quickly, only to discover that nothing is there. Perhaps it was your imagination… or perhaps not. For better or worse, magick looms in the air. Take a journey through the pages of Samhain Secrets 2, with tales of witches and fae and otherworldly creatures. Enter… if you dare!
Samhain Secrets
A cold wind. The whisper of voices when nobody's there. The turning of the world from the light of summer toward the dark days of the Dying Time. These are the heralds of Samhain, the Witches' New Year.
Halloween.
Within these pages you will find creeping chills and fears made real. Come inside… only if you dare.
Reflections
Step into the looking glass for a journey like no other. This anthology features short stories revolving around the theme of reflections… love lost, memories of a bygone era, the person staring back in the mirror, a reflection in the water… expect the unexpected in the pages of "Reflections."
A portion of proceeds from the sale of this book will be donated to the American Foundation for the Blind.
Just Awhile Longer by Kally Jo Surbeck
Tortured Souls
Tortured Souls features stories and poems from authors around the world on the topic of misery and torment… from literal and physical torture to emotional distress and psychological disorders. Take a look inside for a journey into the minds of the desperate and deranged.
Pandemic: An Anthology of Affliction
Viruses, infection, disease…there are hospitals that see it all, from the mild to the deadly. Dare you take a step into the unknown to find out what that affliction is and how it will destroy?
Just Awhile Longer by Kally Jo Surbeck
Mutation
"Mutation is my favorite word these days. There is no other word to describe what I have become…"
They aren't human anymore, something has happened to them. Their DNA has changed leaving them something much more sinister. Do you dare find out what in Mutate?
Nostradamus by Kally Jo Surbeck
It's Behind You!
What is your biggest fear? Delve into these nightmares and phobias to see if you can handle it! 
Fear by Kally Jo Surbeck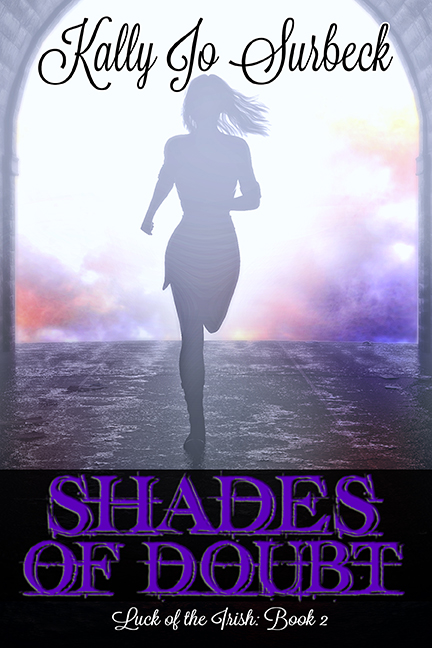 Shades of Doubt
How far would you go for a friend? Ireland? Underground? To bed with the enemy?
Charlize Deseu had it all, great looks, great career, money…none of which can save her from herself. She thought her troubles with the Outfit were over. She'd seen to their prosecution only to discover the local unit was only one of many. A many her best friend has decided to investigate for an expose. Problem is, she's gone missing, and Charlie's off to find her.
Brock O'Bannon is an up and coming boxer who was born involved in an organization that can make or break him. So far he's stayed neutral, but the kidnapping of his childhood friend pushes him over the edge. He'll do what it takes to see justice delivered.
From two vastly different worlds, Brock and Charlie must team up to find their friend, right the current misconception about the origin of nefarious activities, and survive. Tensions run high, chemistry higher in this winner takes all.
Book 2 of the Luck of the Irish series
For The Love Of…
Some people do it for the love of money, some for the thrill. Still others do it for the love of the kill, but they do it for the love of each other.
Mackenzie Harmon is a woman in a man's field, but she's the best assassin money can buy. A slight wrench has been thrown into her latest assignment. A third party has stopped her finalization of a contract. Until she can find and eliminate the mysterious man, she doesn't get paid.
Gabriel Zumbrenen is also an assassin, but for half the money. He has been sent in to handle the removal of a CEO of a major medical corporation. The man who had the contract before him, Mac, has failed. Gabe's job is to clean up the mess.
Whispered Promise (Yadderwal Balance)
Fionn helped save Yadderwal proper, but can he save the world for one woman? Book II Yadderwal Balance Lord Fiontenhal Banaghal Gellert, the thirteenth Marquis De LaRounge, heir to Numarea is a gifted alchemist who has just helped save the planet. Tannah ust Nairn, who is held captive by the vile soul stealer Keegan, is his soul mate. Keegan has promised Tannah her freedom if she does what she is toldgive herself to him, become his. Linked through their dreams, Fionn goes in search of Tannah, promises to save her from a fate worse than death But will their love be enough? Can he find her in time and keep his Whispered Promise? Warning, this title contains the following: violence, children in danger.
The Northlore Series Book 1
Volume One of the Northlore Series is a modern collection of Scandinavian Folktales, told in new and often surprising ways. With humour, drama and and more than a little tension, you will be drawn into a world of Trolls and Huldr, Elves and Mara. We live in a world full of hidden creatures, if you have the eye to see them. And if you dont, the wonderful illustrations contained in the book should help!
The book itself has mystical significance as 33 is a magic number. Is it a coincidence that there are 33 inspired contributions? Well, yes, actually, it probably is.
Welcome to the Northlore series. Poetry and prose inspired by Scandinavian Folklore. In turns funny, horrifying, sexy and sad, what you seek is within.
Warning! Do NOT feed the animals.
She Blinded Me With Science Fiction
Chick lit collides with Star Trek fandom in this hilariously steamy boy-gets-girl romp. A reluctant Klingon finds unexpected love on the perfect anonymous getaway gone oh so very wrong. A Trekcon cast off gets the deal of a centruy when a blackjack dealer takes a chance on love. Who says Klingons can't find love in Las Vegas?
The Awakening
A Balanced Choice
Some say she dances too close to Hades, controlling life and death. She laughs at those fools. Why dance with a god of the Underworld when it's her power that determines when humans pass?
Her sisters call her morbid, again she laughs. Two of her sister's are called artists–a weaver and a mixer. That's what they are. Her third sister left them all hanging.
No. Atropos believes it is she who is the true artist. The knowledge of life and death gives humans their ultimate passion and ultimate drive. Therefore, with her shears she breathes passion, hope, sadness, sorrow, drive, and determination, all that and more, she breathes into the human with the snip of her shears.
But, what if she miscalculates a life? What if a time is cut too short?
Bound By Hope
Haunted by her past, Kaitlyn O'Connel ventures to New York to become a guardian rail rider, ensuring young orphans go to good homes and families. Calum Banagher's American prosperity is threatened by the young, beautiful Agent who questions his morality and ethics, lodging accusations that he has prospered from child labor. He not only wants to prove her wrong to clear his name, but to win her heart
Tempting Fate
Description coming soon…
Sudden Fall (Yadderwal Balance)
Description coming soon.
Haunted Tails
Find out what's going bump in the night with stories and poetry from the most terrifying horror writers; Kevin S. Hall, Cecilia H. Doldan, Nicholas Boving, Stephen Downes, Kody Dibble, June Lundgren, Amy S. Pacini, June Rachelson-Ospa, Justin R. Beeman, Martha Jette, Debbie Johnson, Giselda Woldenga, Anthony V. Pugliese, Matt Mesnard, Rick Eddy, Michele Jones, Linda H. Gerald, Linda Jenkinson, Jake Elliot, Kally Jo Surbeck, Etka Rawat, Mathias Jansson, Will Zeilinger, Delaina M. Waldron, Kimberly Klemm, Trisha Sugarek, Rae Desmond Jones, Jon Ospa and Samie Sands.
Paths Chosen
Over 700 hundred years running and chasing Heath and Simone have finally found each other again only to discover their ill-fated love affair was much, much more complex that they were lead to believe.
Simone, a tavern and inn keep's daughter, was over the moon to be asked to marry the wealthiest landowner's son–farmer, militia, a man among boys. But before they could be married the angry raiders from the south swooped into town telling Simone she could leave with their leader or watch everything and everyone burn to the ground.
What they didn't tell her was their leader was no average man but one who had severely angered the Fates.
Will every one get their just desserts in Paths Chosen?
Twice as Strong
In a time when her heart has been broken and her hearing stolen by a ruthless accident, Frankie must find it in hear heart to forgive her husband.  Can they save their marriage and rekindle the love they once felt?  In this heartwarming tale a young married couple fights to keep not only their love but their marriage.  Can miracles come in time for Valentine's Day?
Phase in Verse
Edited by Kally Jo Surbeck, featuring the authors of Phaze. Poetry has long been a short form method to story telling. Morals, epic tales, even desperate pleas for understanding have been recorded through the ages in verse. And yet, somewhere along the line of our technologically advancing society, it seems those small intimate pleasures are growing lost. Poetry is love, life, and feeling breathed into words. Our shared experiences, emotions, dreams?. Today, we are pleased to present to you a fine collection.
A Picture is Worth 1000 Words
It started with a writing challenge – 1,000 words based on a random image. 18 authors took on the task all in aid of PKDcharity.org.uk and here are the results! From demons to lost loves, from unsolved mysteries to spooky supernatural happenings read what came out of the imaginations of Jaclyn Ann Lee, Lila L. Pinord, Rob Shepherd, Andy Lockwood, L.H. Davis, James Bryant, Anthony V. Pugliese, Kevin S. Hall, Rick Eddy, Max E. Stone, Dave J. Suscheck Jr., Vered Ehsani, J. Cornell Michel, Michele Jones, Lizzie Wachter, Linda Jenkinson, Kally Jo Surbeck and Samie Sands. Never will you find such an eclectic collection of stories in one book, but which such a varying collection of writers, what did you expect? All the pictures that inspired these stories can be found at samiesands.com/pictures. Buying this book will not only entertain and amuse you, it will support a hard working charity and might even lead you to discover your new favourite author!